How to create high-performing video creatives for games using AI and smartUA?
Hey!
We're launching another rubric #smartUA – featuring case studies of our second AI-based product. Within #smartUA, we have two main directions:
(1) an AI service for generating scenarios for creating high-performing video creatives based on trained algorithms for casual and mid-core games.
(2) an automated AI self-service platform for high-performing ad creatives generation and optimization, upon which we develop a solution for generating performing video creatives.
Today, let's start talking about our first service for creating high-performing video creatives!
smartUA for gaming is an AI-driven game development product that makes scenarios for crafting high-performing videos. Leveraging neural networks, we unearth unique narratives that shine in the marketing realm, customized for specific products. Here's how it works: the neural network generates top-notch gaming mechanics, selects the finest approach, and seamlessly integrates them into visuals, narratives, and sequences, among other elements.
With smartUA, you can discover entirely distinct creatives tailored to various audience segments. Thanks to AI, the process is optimized to its fullest, taking into account client feedback on which videos perform best according to KPIs. As a result, it weeds out ineffective concepts. Ultimately, the neural network systematically produces scenarios that attract relevant players with a low CPI (around $1-2). Currently, the system primarily operates for casual games and core games willing to incorporate mini-games to reach a broader audience. We plan to teach the system to work with other genres in the future.
The foundation of the product is algorithms developed through 7 years of experience in creating creatives and 10 years of experience in developing AI solutions for businesses using computer vision algorithms, recommender systems, and other ML models. Our team's portfolio includes cases of significantly increasing the number of high-performing creatives for clients by 10-20 times.
We created smartUA to respond to the industry's challenge – the complexity and cost of creating high-performing creatives and the complexity of UA. This problem is confirmed by many industry specialists, including Matej Lancaric, a GameDev expert with over 10 years of experience.
Matej Lancaric, expert comment:
Main issue with UA these days is a performance fluctuation. You need to be running multiple channels and diversify the UA portfolio as much as you can. This brings a bit more complexity in decision making, evaluation and overal optimisation. So being on top of everything sometimes feels a bit hard, but that's part of the UA manager's job!
Having a proper creative testing framework could be one of the issues as well. It takes a huge 100 creative concepts to get 1-3 creative winners. That's a lot of resources, time spent on testing and production.
Gaming is very similar to other industries. We measure slightly different KPIs and use different campaign optimisations, but all in all, rest is the same. You just need to know your target audience well.
Increasing ROAS is all about the CPI vs LTV equation and the willingness to risk. And of course money in the gaming company bank account. The most important part is missing in the question. ROAS on which day? ROAS on D30, D90 or D365? This is the most important part in the process of testing and setting goals. You always need to understand what the company can afford and then spend against that.
Post-covid time hit companies pretty hard, therefore we see a lot of layoffs. We still need to see if the gaming industry is recession-proof or not. Overall, spend is decreasing while the payback periods are also shortening. Gaming companies want to have their money back quickly.
Today, we have prepared an interview with our CPO, Vic. Below is a brief description of his background and experience in creative content creation.
Background, Victor CPO at smartUA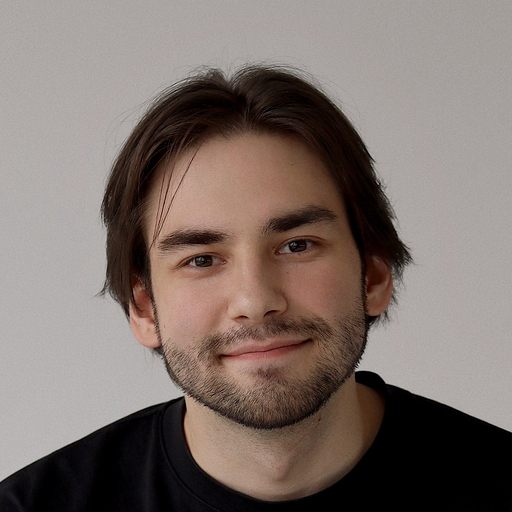 I was employed as a motion designer on a well-known and successful project. While working there, I noticed a distinct lack of knowledge regarding the systematic creation of video ads. Even in large companies, there was little understanding of the process, why and how it is being created. So I was left to search for answers on my own.
After working five years in the industry, I have realised that this trend has not changed. Following the burnout of screencasts, it has become commonplace to emulate the video ads of top competitors and oriented toward the mechanics of hyper-casual games.
Unfortunately, these top competitors often fool newbies by spending huge budgets on non-working video ads so that they are highlighted in junctions, thereby killing small projects.
Frequently, even cool concepts fail in the market due to the lack of deep understanding how to create and work with video ads. It turns out that video ads only work for those who have already successfully introduced misleading ads.
While I was working on video ads, I wanted to achieve 2 goals:
1. To enhance the working conditions of motion designers (I was in their ranks)
2. To develop a functioning system for making high-performing video ads. Any inconsistencies or absence of systematisation motivates me to take action!
In the pursuit of optimal performance, I faced a significant challenge. I delved into a range of games metrics and advertising materials, and struggled for a long period to combine together the game, its metrics, the store, the icon, and marketing strategies. Through unwavering perseverance and much testing, I eventually developed and validated a system for creating high-performing video ads.
After that I founded my own creative agency, which has proven to be very profitable – no cent thrown to the wind. Production costs have been significantly reduced, up to x2-x4 lower than in an in-house production, while providing better working conditions and salaries for our employees compared to those offered in top gaming studios. Our clients were satisfied with the quality of our creative output, which is on par with that of industry giants, such as Playrix and My Games.
The secret was that almost all studios made video ads on all stages with us. This is why my team developed an understanding of how to make high-performing video ads. It turned out that every 10th video created for the client made 2x more money, even with the worst results, than without our service.
Consequently, my team gained a deep comprehension of producing high-performing video ads. Statistical analysis showed that every 10th video created for clients was performing well and generated twice the revenue, even with the worst results, when our services were utilized compared to when they were not. And the other video ads were created with no outstanding metrics.
Then the industry was hit by a crisis that led to the cessation of video ads and creative operations by most companies, and the closure of many others. As a result, overcrowding of the market often led to our services being overlooked. So, I contemplated restructuring my agency format. It was precisely at this point that I met Ann from INCYMO.AI.
The guys have developed a neural network that helps games generate more revenue. It was clear to me that my product could be scaled by INCYMO.AI. So we came up with the idea of a new product that can not only help you earn 10x more with the help of AI, but also do it a hundred times faster and automatically.
The following examples will help you better understand our experience!
Case №1. Interactive stories
The company's inaugural case revolved around a game that placed a strong emphasis on narrative in the text-based choices genre. The client had been stuck in the soft launch phase for quite some time, experimenting with various creative production studios and testing different procurement methods, all of which resulted in financial setbacks. Nonetheless, the client remained committed to finding a solution that would yield results.
At that point, the UA department was rather small, consisting of just 3-4 team members, and the processes were far from streamlined. Initially, the client had only PNG images of characters, their attire, hairstyles, emotions, and backgrounds for their creative materials – all essential elements of the user interface (UI). Before collaborating with us, the client was shelling out $500 for each creative.
The client lacked an in-house production facility, relying instead on external studios for creatives and traffic. However, the results were far from satisfactory, with creatives consistently falling short. This is where our expertise came into play, and we identified a more effective approach to narrative elements. The neural network was trained to work with narratives in a manner that transformed the overarching storyline. Prior to our involvement, it was primarily focused on generating mini-games.
We identified the first batch of creatives that not only recouped the costs but also contributed significantly to the project's profits. In total, we produced 700 creatives. Impressively, one out of every ten creatives didn't just break even but also delivered substantial gains. We also expanded the number of advertising channels from 2 to 5.
Our responsibilities encompassed optimizing the client's creative assets and developing rigs that allowed easy switching between character clothing, hairstyles, and facial expressions with a simple button press. The most time-consuming part of our work revolved around these processes.
Result: the project's revenue increased sixfold after integrating with smartUA from May 2021 to January 2022 – the graph below provides a more detailed illustration of the growth.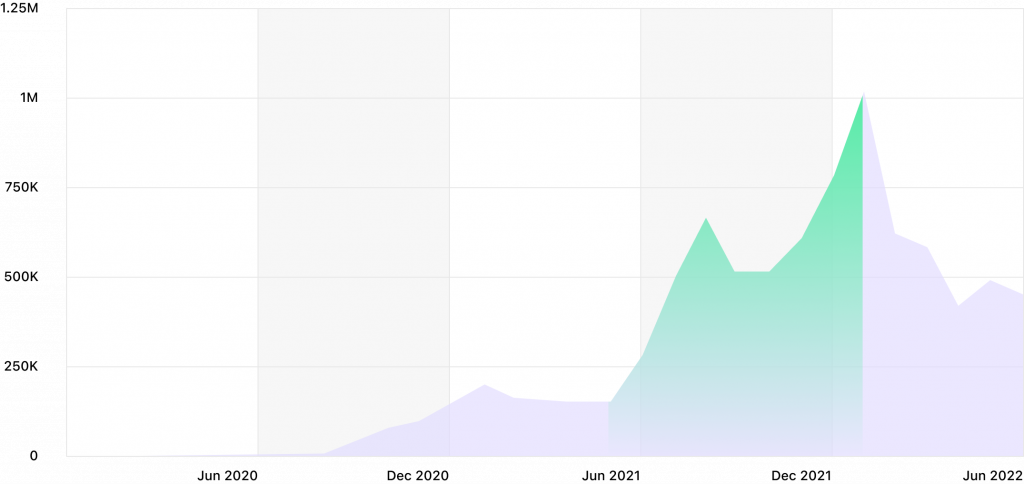 Case №2. Casual casino
The next case from the creative studio was a startup that was developing a game similar to Coin Master (we wrote about this game in an article about Piggy Banks). This project came to us through a recommendation from one of our previous clients.
The startup had only one game, and their UA/marketing efforts were managed by a single CMO. Since the company lacked resources for creating creatives, they handed over the entire production process to our agency, from ideation to metrics analysis after the creative implementation.
The project struggled to create high-performing creatives on its own, and even within their established KPIs, they couldn't make them successful. As a result of our work, every 10th creative for the project became high-performing. In total, we created 21 successful creatives for the game: 6 performed exceptionally well and generated profits, while the others met or exceeded the KPI.
In total, we worked with the project for two months, during which we created 150 creatives, with every 10th performing well. The set KPIs were finally achieved, and the company's revenue increased significantly.
Result: The product did not achieve profitability, despite the good creatives; however, the game itself struggled to monetize effectively.
Case №3. Mid-core
Our last and favourite case. The project itself was of high quality and impressive, and with our scenario generation product #smartUA, we managed to double the client's revenue.
We started working with the project in May, and below is a graph of the client's revenue growth. In the first 12 videos, we found a high-performing creative that attracted installs for $1-2 (an excellent result, as we usually need to test 50 to achieve this). We continue to work with the project and systematically find high-performing creatives, helping the client increase their revenue.

Join the community & receive monthly summaries of our materials
Login